Explore The Little Tibet Traverse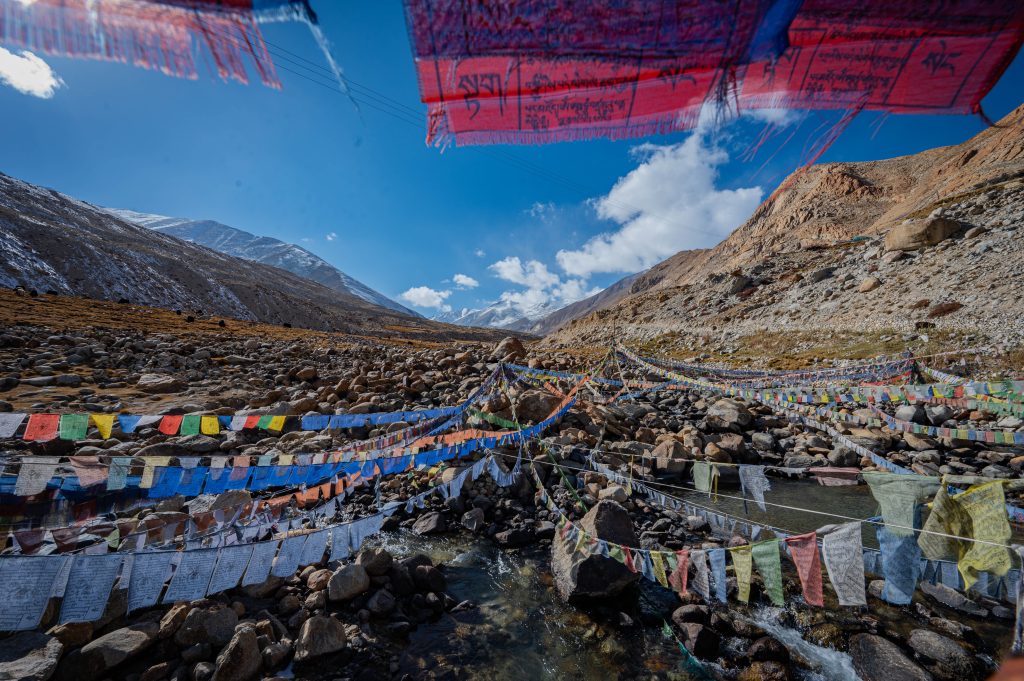 Embark on an extraordinary adventure to Ladakh, a land often called "Little Tibet." Nestled amidst the majestic Himalayas, Ladakh offers a captivating blend of awe-inspiring landscapes, rich cultural heritage, and spiritual enlightenment. Join us as we journey through this enchanting region, discovering its wonders and immersing ourselves in its unique charm.
Ladakh's Scenic Himalayan Flight
The journey begins with a breathtaking Himalayan flight from Delhi, offering unparalleled views of the snow-capped peaks and sprawling valleys below. Passengers are urged to secure a window seat, as the panorama that unfolds during the flight is nothing short of awe-inspiring. This scenic experience sets the tone for the captivating adventure that awaits.
Dolkar Eco Resort – A Haven of Tranquility
Nestled amidst Ladakh's serene beauty, the Dolkar Eco Resort awaits travellers seeking a peaceful retreat. This eco-friendly haven harmoniously blends comfort with sustainability, offering cosy rooms adorned with traditional Ladakhi décor. Guests can savour mouthwatering local cuisine prepared from organic ingredients. The resort also organises guided treks and cultural activities, connecting visitors with the region's natural wonders and local traditions.
The Korzok Festival at Tsomoriri – A Celebration of Culture
One of Ladakh's vibrant cultural celebrations is the Korzok Festival, also known as the Gustor Festival. Held in the picturesque village of Tsomoriri, this annual extravaganza showcases Ladakh's rich Buddhist heritage. Colourful masked dances, traditional music performances, and religious rituals fill the air, creating an atmosphere of joy and spiritual hunger. Attendees are immersed in the cultural tapestry of Ladakh, fostering a deep appreciation for its traditions.
Leh - An Ancient Nexus of Traditions
The historic town of Leh serves as the cultural heart of Ladakh. Its ancient lanes, steeped in history, beckon visitors to explore and discover hidden treasures. The Leh Palace, a majestic architectural marvel, offers a glimpse into Ladakh's royal past. Atop a hill, the serene Shanti Stupa provides panoramic views of the surrounding landscapes, symboling peace and harmony. Engaging with friendly locals, navigating bustling markets, and relishing Ladakhi delicacies add to the cultural experience.
Nubra Valley: Nature's Grand Canvas
Venture into the mesmerising landscapes of Nubra Valley, renowned as the "Valley of Flowers." Crossing the world's highest motorable pass, Khardung La, travellers are greeted by a breathtaking tapestry of nature's beauty. The sweeping dunes of Hunder offer a surreal setting, where riding a double-humped Bactrian camel becomes an unforgettable experience. Serenity awaits at the ancient Diskit Monastery, perched atop a hill, inviting contemplation amidst the valley's awe-inspiring vistas.
The Dune Hotel – Luxurious Harmony with Nature
Amid Ladakh's rugged terrain, The Dune Hotel in Nubra Valley offers an oasis of luxury and tranquillity. Indulge in lavish comforts while being surrounded by the raw beauty of the region. The hotel's picturesque gardens invite leisurely walks, the flavours of authentic Ladakhi cuisine tantalise the taste buds, and the on-site spa rejuvenates both body and soul. It's an idyllic retreat that harmoniously blends modern amenities with the natural surroundings.
Ladakh, unveils a world of enchantment and discovery. Its breathtaking landscapes, vibrant festivals, and warm cultural encounters create an immersive experience that lingers in the hearts of those who visit. Be swept away by the magic of Ladakh and embark on a journey filled with wonder, serenity, and profound cultural connections. 
Get ready to fall in love with this captivating land where adventure and spirituality intertwine seamlessly. If you want your customers to explore Leh & Ladakh in a way that's unique to them, The Experience India team can curate an itinerary that is customised to the T.
From food to stay to places to explore, our expert travel guides can help them see Leh & Ladakh from the lenses of their desire; give us a call to discuss your trip to the dreamland today!